WALL SWITCH READ/WRITE SMARTCARD READER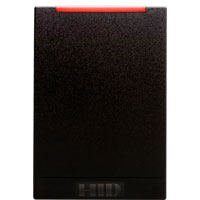 Using the 13.56 MHz technology platform, the iCLASS RW400 contactless smart card reader/writer combines the longer read range of proximity with the power and heightened security of smart card technology.

Supporting read/write applications, the RW400 reads/writes user data to HID iCLASS credentials that offer either 2k bit (256 Byte), 16k bit (2k Byte) or 32k bit (4k Byte) of data storage. Read/write applications include IT secure authentication, biometric template storage, digital cash, time and attendance, equipment/material use or checkout and transit passes.
Experience enhanced versatility:
• Use one reader to read standard proximity format data from HID iCLASS credentials or unique serial numbers from MIFARE® cards.
• Confidently install the reader knowing that the Wiegand output easily interfaces with most existing Wiegand protocol access control panels.
• To support read/write applications, the bi-directional RS232 serial port provides connection to a PC or microcontroller.

Appreciate advanced security:
• All RF data transmission between the card and reader is encrypted using a secure algorithm.
• By using industry-standard encryption techniques and advanced key management systems, iCLASS reduces the risk of compromised data or duplicated cards.

Be secure in knowing:
• iCLASS complies with the ISO 15693 standard for contactless smart card technology. Standards are important in smart card technology because they make it possible for many equipment and application developers to work with the smart card technology and create a broader range of uses for the card.
• iCLASS technology can extend the use of your access control credential into other applications today and tomorrow.
• Dimensions: 8.5 cm x 12.2 cm x 2.8 cm)
• Maximum read range: Refer to datasheet
• Card Compatibility
The iCLASS RW400 reader is compatible with all iCLASS credentials. The reader's versatility allows it to read credentials meeting several ISO standards:
° 15693 – read/write; 2k bit (256 Byte), 16k bit (2k Byte) and 32k bit (4k Byte) iCLASS credentials
° 14443A – read only; MIFARE (serial number)
° 14443B – read/write; 16k bit (2k Byte) iCLASS credentials
• Warranty: Lifetime