A PROXIMITY CARD KEYFOB FOR ACCESS CONTROL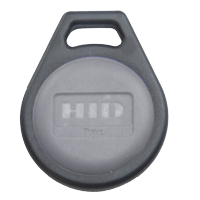 The ProxKey III is a proximity keyfob offering HID proximity technology in a convenient, pocket size device. It easily attaches to a key ring, badge clip or lanyard.

The ProxKey III is built to withstand harsh operating environments or handling. The ProxKey III is suited for use in access control applications where a Photo ID is not required.
• Small enough to fit on a key ring.
• Universal compatibility with HID proximity readers.
• Offers universal compatibility with all HID proximity readers.
• Provides an external number for easy identification and control Can be placed on a key ring for convenient entry.
• Supports formats up to 85 bits, with over 137 billion codes.
• Using HID's ProxProgrammer®, card vendors can ship proximity keyfobs, custom programmed to their customers' requirements, from their own inventory. Enables smaller order quantities and overnight delivery. (Check with vendor for availability.)
• Lifetime warranty.
• Typical Maximum Read Range
° ProxPoint® Plus reader-up to 1.5" (3.7 cm)
° MiniProx¢â reader-up to 2" (5 cm)
° ThinLine II® reader-up to 2" (5 cm)
° ProxPro® reader-up to 3" (7.5 cm)
° ProxPro®III reader-up to 4" (10.2 cm)
° Prox80¢â up to 2" (5.1 cm)
° MaxiProx® reader-up to 12" (28 cm)
• Dimensions: 1.555 x 1.25 x 0.235 inches max (3.95 x 3.18 x 0.60 cm)
• Keyfob Construction: Ultrasonically welded ABS Shell with TPE insert
• Warranty: Lifetime